KESELAMATAN: BERADA DALAM ALLAH BAPA DAN TUHAN YESUS KRISTUS
Keywords:
Paul, Parousia, Thessalonians, Salvation
Abstract
What and how is salvation? The Apostle Paul's First Letter to the Thessalonians gives an explanation of salvation. This paper wants to explain Paul's explanation of salvation argumentatively. For Paul, salvation is manifesting life in God the Father and the Lord Jesus Christ. It is a gift through the events of the death and resurrection of Jesus. Besides that, Paul linked salvation with waiting for the coming of the Lord. He uses the term parousia, which means presence. The salvation that Paul proclaimed through experiencing God's presence in life now leads to its fulfillment at the end of time.
Downloads
Download data is not yet available.
References
Batubuaja, A. K. (2020). Kajian Teologis Parousia dan Implikasinya bagi Jemaat Kristen Masa Kini. Jurnal Teologi Dan Pendidikan Kristen, 1(1).
Gemeren, W. v. (2016). Progres Penebusan. Surabaya: Penerbit Momentum.
Groenen, C. (1984). Pengantar ke dalam Perjanjian Baru. Yogyakarta: Penerbit Kanisius.
Hadiwijono, H. (2013). Iman Kristen. PT. Gunung Mulia.
Hawthrone, G. F., Martin, R. P., & Reid, D. G. (Ed.). (1993). Dictionary of Paul and His Letters. England: Inter Varsity Press.
Jacobs, Tom. (1983). Paulus - Hidup, Karya dan Teologinya. Yogyakarta: Kanisius.
Musa, D. P. F. (2021). Parousia dalam Perspektif Jemaat di Tesalonika dan Implikasinya bagi Gereja Masa Kini. Jurnal Didasko, 1(2), 89–96.
Nainggolan, B. Diaz. (2020). Analisis Ajaran Kitab 1 Tesalonika 5:1-11. Kepastian Janji Tuhan Didasarkan atas Keyakinan pada Kitab Suci-Nya. Jurnal Koinonia, 12(1), 1–10.
Oet, S. (2014). Akhir Zaman menurut Surat 1 Tesalonika: Sebuah Analisa Teologis-Praktis. Jurnal Manna Raflesia, 1(1), 54–71.
Suharyo, I. (1991). Mengenal Tulisan Perjanjian Baru. Yogyakarta: Penerbit Kanisius.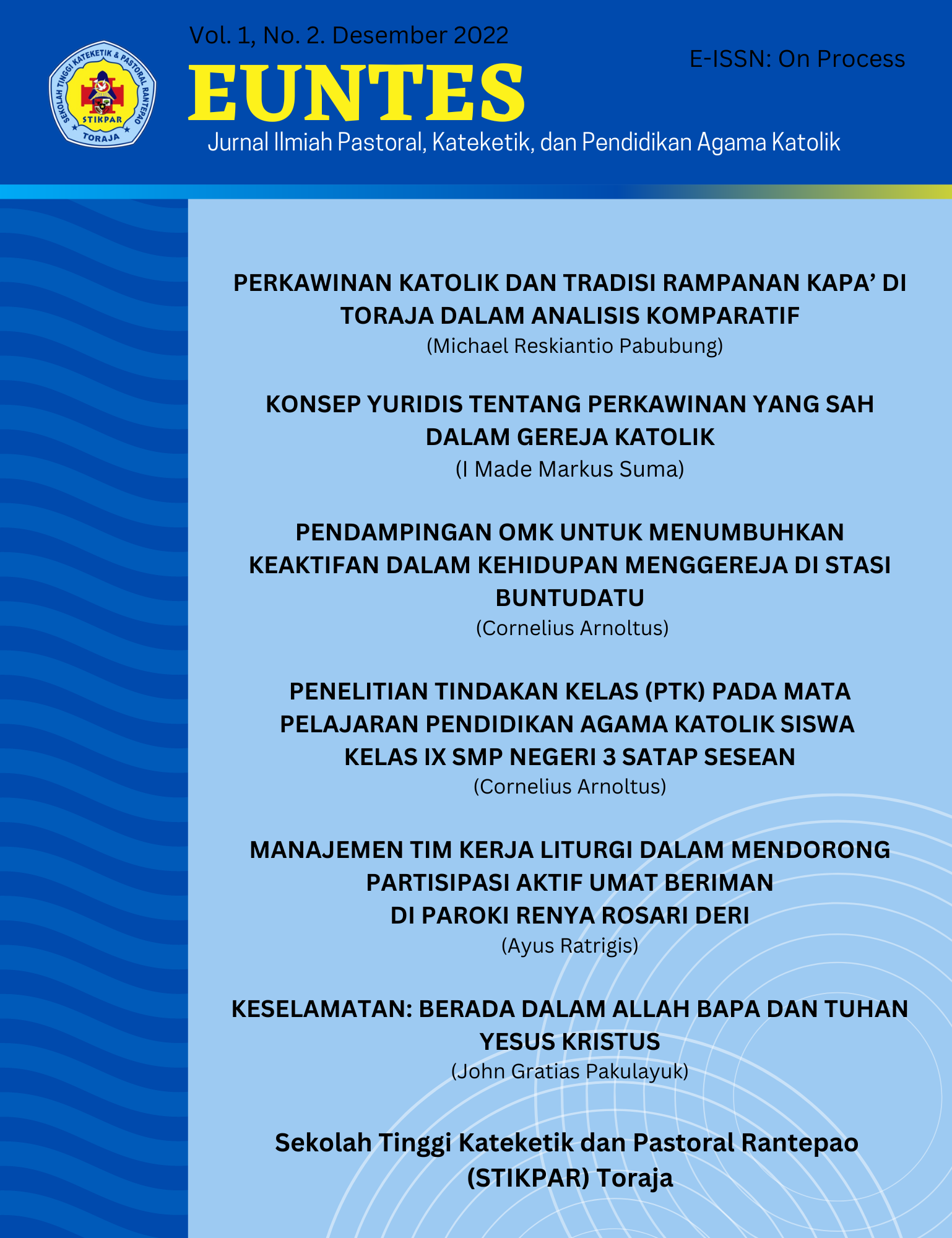 Downloads
Published
2022-12-29 — Updated on 2023-01-03
How to Cite
Pakulayuk, J. G. (2023). KESELAMATAN: BERADA DALAM ALLAH BAPA DAN TUHAN YESUS KRISTUS. Euntes : Jurnal Ilmiah Pastoral, Kateketik, Dan Pendidikan Agama Katolik, 1(1), 45–54. Retrieved from https://journal.stikpartoraja.ac.id/index.php/euntes/article/view/11