MANAJEMEN TIM KERJA LITURGI DALAM MENDORONG PARTISIPASI AKTIF UMAT BERIMAN DI PAROKI RENYA ROSARI DERI
Keywords:
Liturgical, Management, Active Participation
Abstract
The presence of the liturgical work team provides great assistance to the liturgical services in the Church. Through the liturgical work team, the faithful are helped to give active participation in doing liturgy. The Covid-19 pandemic was a concrete challenge that the faithful faced to participate actively in the Church. Various liturgical activities were carried out online. Moreover, at Renya Rosari Deri Parish, liturgical activities had been abolished. Furthermore, the use of the new Order of Mass made it difficult for the faithful to be actively participated in the Eucharist. Through a qualitative research, researcher found that in this situation the management function of the liturgical work team needs to be improved. Some of the pastoral steps that can be carried out through the management function are holding liturgical and sacramental catechesis, making the faithful to take part in liturgical services, and initiating liturgical inculturations.
Downloads
Download data is not yet available.
References
Dep. Dokpen KWI. (2012). Dokumen Konsili Vatikan II. Jakarta: Obor.
Dewan Kepausan untuk Promosi Evangelisasi Baru. (2022). Direttorio per la Catechesi (Petunjuk untuk Katekese). Seri-Dokumen-Gerejawi-No-128, 128.
Dewan Pastoral Paroki Renya Rosari. (2015). Buku Kenangan 50 Tahun Paroki Renya Rosari Deri. Toraja : Paroki Deri
Jimun, M. G., Kase, E. B. S., & Adinuhgra, S. (2021). Analisis Pengaruh Manajemen Pelayanan Pastoral Terhadap Kepuasan Umat Wilayah Iii Paroki Santa Familia Sikumana Keuskupan Agung Kupang. Selidik (Jurnal Seputar Penelitian Pendidikan Keagamaan, 2(1), 44–53. http://ejurnal.org/index.php/selidik/article/view/35
Konferensi Wali Gereja Indonesia. (2016). Kitab Hukum Kanonik. Grafika Mardi Yuana.
Krisnandi, H., Suryono Efendi, dan E. S. (2019). PENGANTAR MANAJEMEN Panduan menguasai Ilmu Manajemen. Yogyakarta: Kanisius
Rohman, A. (2017). Dasar-Dasar Manajemen. Inteligensia Media.
Martasudjita, E. (2005). Ekaristi: Tinjaun Teologis, Liturgis dan Pastoral. Yogyakarta: Kanisius.
Setiadi, I.D.(2016). Manajemen Paroki. Praba, 5, 18–19. Yogyakarta: Kanisius
Suparman, A. (2020). Pertobatan Pastoral Komunitas Paroki. Jakarta: Dokpen Konferensi Waligereja Indonesia.
Susanto, A.B. (2014). Manajemen Paroki. Jakarta : The Jakarta Consulting Group.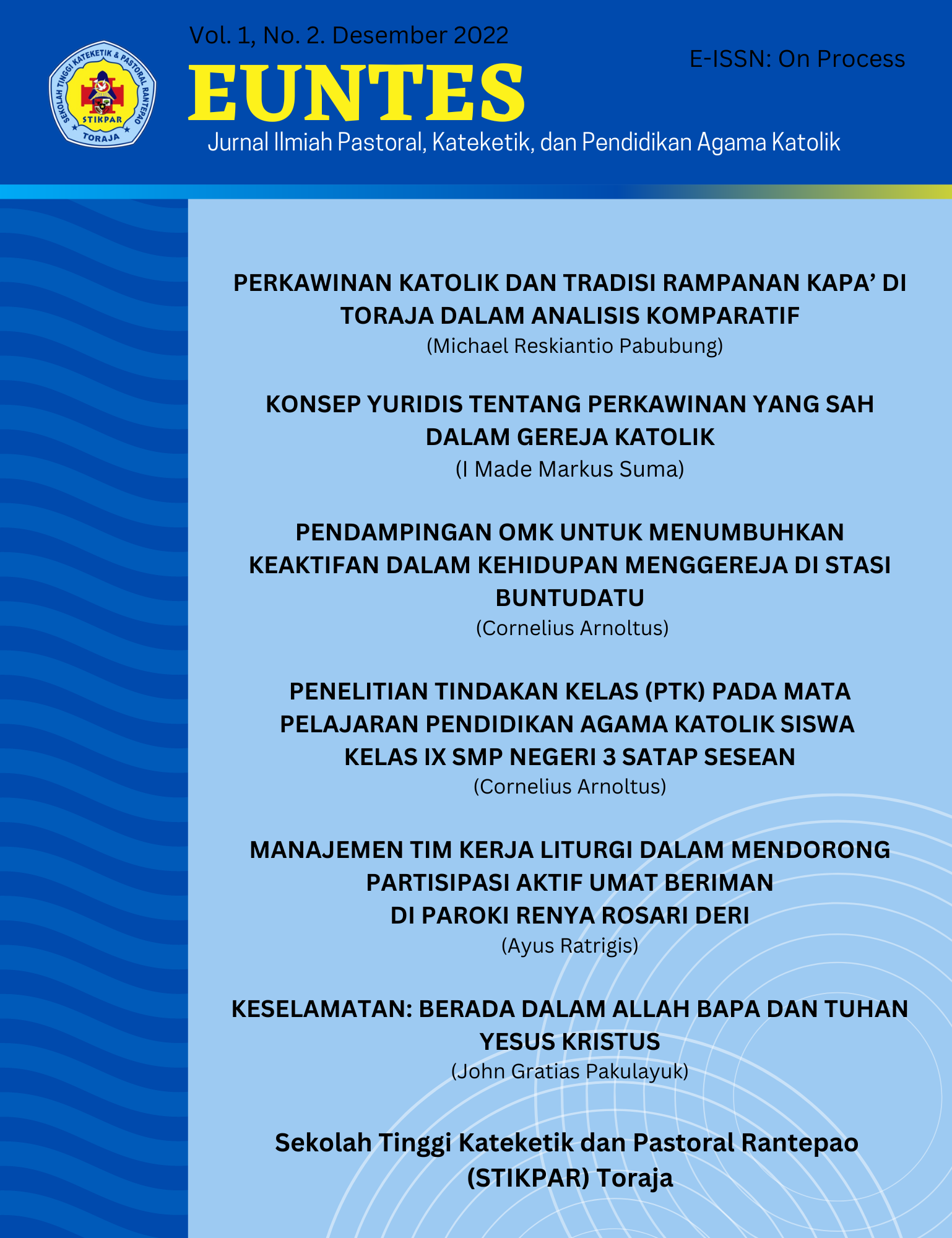 Downloads
Published
2022-12-29 — Updated on 2023-01-03
How to Cite
Ratrigis, A. (2023). MANAJEMEN TIM KERJA LITURGI DALAM MENDORONG PARTISIPASI AKTIF UMAT BERIMAN DI PAROKI RENYA ROSARI DERI. Euntes : Jurnal Ilmiah Pastoral, Kateketik, Dan Pendidikan Agama Katolik, 1(1), 26–38. Retrieved from https://journal.stikpartoraja.ac.id/index.php/euntes/article/view/4