PENDAMPINGAN OMK DALAM MENUMBUHKAN KEAKTIFAN MEREKA UNTUK BERPARTISIPASI DALAM KEHIDUPAN MENGGEREJA DI STASI BUNTUDATU
Keywords:
OMK, Pendampingan, Keterlibatan, Kehidupan Menggereja
Abstract
Catholic Youth (OMK) is a categorical group formed within the scope of the Church. Young people belong to a productive age and have much potential. They are energetic, creative, dynamic, empathetic, and willing to take risks. These capacities make OMK the essential pillar that is expected to play a vital role in the Church. However, not all OMK groups have such things. Therefore, they need assistance and training. OMK in the Buntudatu Station has many but needs to give a role. It is because they are constrained by their unfamiliarity with participating in the Church. Data obtained from the field through questionnaires were analyzed through frequency tabulation. In analyzing the data, the authors use statistical analysis, namely calculating the frequency distribution to determine the percentage of each dimension measured. From the data processing results, the authors found that OMK at the Buntudatu station lacked a role in church activities due to a lack of training and assistance from competent people. It can be shown by looking at the dimension of involvement at a low frequency of 2.51 or 62.87%. In the aspect of mentoring, it gains 1.70 or 42.62%. This data shows that OMK is less involved in participating as a word reader in the Celebration of The Word of God due to a lack of training and mentoring.
Downloads
Download data is not yet available.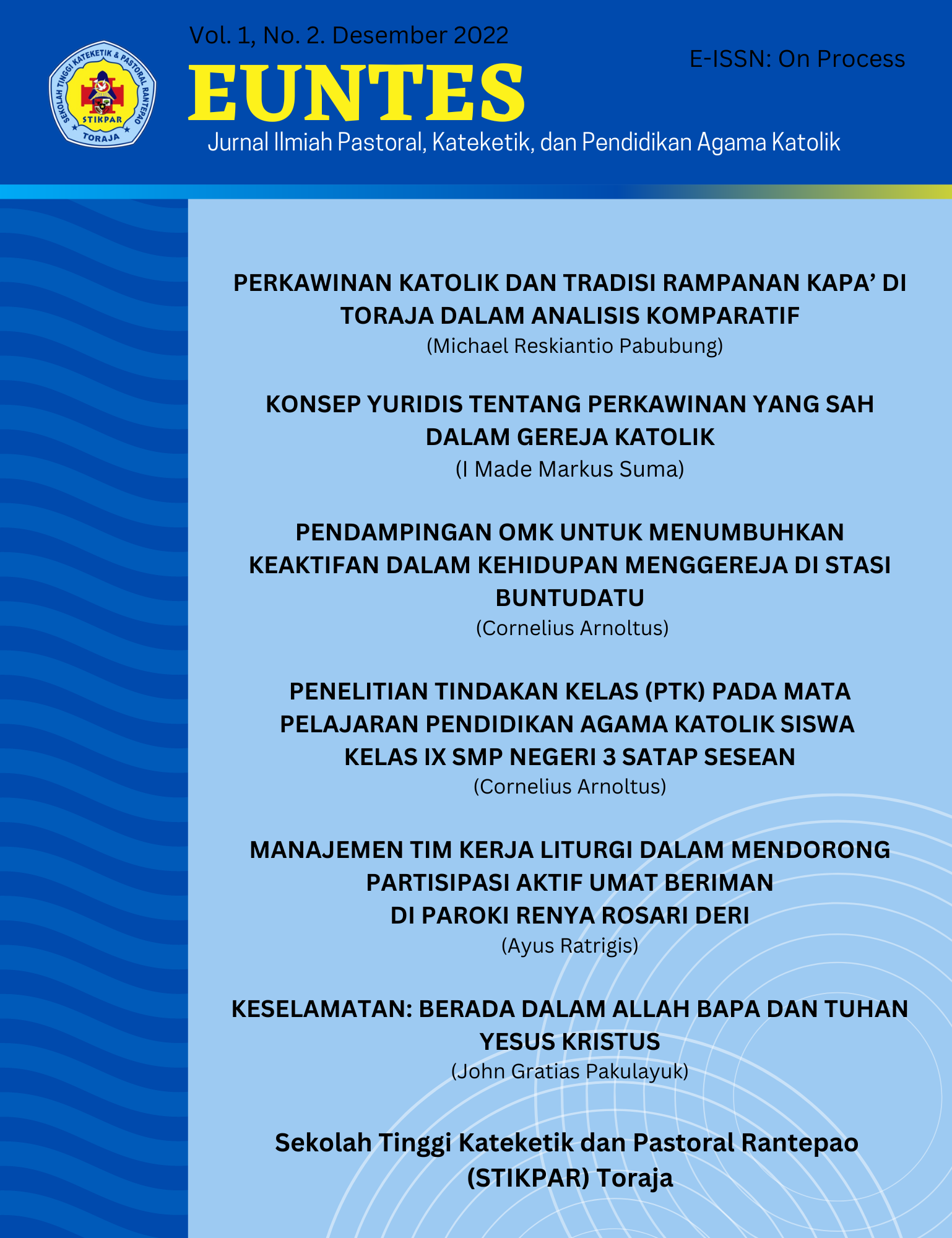 Downloads
Published
2022-12-29 — Updated on 2023-01-03
How to Cite
Arnoltus, C. (2023). PENDAMPINGAN OMK DALAM MENUMBUHKAN KEAKTIFAN MEREKA UNTUK BERPARTISIPASI DALAM KEHIDUPAN MENGGEREJA DI STASI BUNTUDATU. Euntes : Jurnal Ilmiah Pastoral, Kateketik, Dan Pendidikan Agama Katolik, 1(1), 39–44. Retrieved from https://journal.stikpartoraja.ac.id/index.php/euntes/article/view/3 (Original work published December 29, 2022)